Film Room - Payton Wilson's NFL Highlight Reel, NC State vs. Louisville
Dave Doeren and staff have had their coffers full of great linebackers the last few years, but none might be better than Payton Wilson. We need to appreciate the season Payton Wilson is having for NC State right now because he'll be playing on Sundays next year. A friend texted me during the Wolfpack's game against Louisville and said, "Wilson is getting drafted on this game alone."
I can't argue with that and thus decided to put together all his top plays for this week's Film Room. He did so much so well this week that I ended up with the same number of clips I usually get from the whole team, and this was just one guy. Alec called this Payton's magnum opus (*link*) and that's the best way to put it. The old heads out there will understand how it's like Shaquille O'Neal dropping a 44-point, 20-rebound gem in game one of the 2001 NBA Finals in a loss to the 76ers, a duel against Dikembe Mutombo (I promise this will connect to a point later). Phil Jackson later called it a waste of one of the best O'Neal performances of his career. That game was tough because Allen Iverson dropped 48 that night, also arguably his best game.
I digress. Last Friday's game between NC State and Louisville was ultimately not as memorable as that classic matchup. It will be largely forgettable, which is a shame because Payton Wilson did everything in his power to bring the win to the Pack.
Dear NFL scouts, feel free to reference and link this site when using these clips as your reasoning to draft Payton Wilson first overall in next year's draft.
As always, let's go to the video tape!
1. Payton has been credited with some of the fastest times of the Dave Doeren era, especially on the defensive side of the ball. His closeout speed here impressively takes away a surefire first down to a stop short of the sticks.
Look at the ground he covers, he seems to be running twice as fast as Louisville QB Jack Plummer.
2. For the second time this season, Wilson singlehandedly saved a big play. NC State continues to continue to allow tight ends to leak out on delayed releases. Plummer's eyes must have gotten so big when he saw his man all alone with grass ahead.
Payton Wilson does his best Mutombo impression (see, it connected!) by skying up for the block. He should have wagged his finger at the Louisville bench afterward. Actually,
no, don't do that.
Sometimes when an opponent makes a good play against you, all you can do is give them credit for it. Like when I get blown by in my old man pickup basketball league, you just have to tip your cap and try to get it back the next play.
Wilson didn't allow himself to get jammed up by the TE and kept his target of the QB. This was third down so you know Tony Gibson was bringing a blitz. There were three LB's and a safety. The Louisville running back, after the play action, had to choose between trying to block Sean Brown or Wilson. He actually made the right call because had he picked up Wilson then Brown would have had a straight line to the QB. It all went according to plan except for Payton showing off his vertical leap in preparation for the NFL Combine.
3. This was the mood in the stands as fans were grumbling about Dave Doeren planning to punt on fourth and one while on the plus side of the 50 yard line.
It turns out, Doeren had another card up his sleeve. And that card is Payton Wilson. Louisville clearly wasn't expecting it and Wilson was able to barrel ahead for the first down.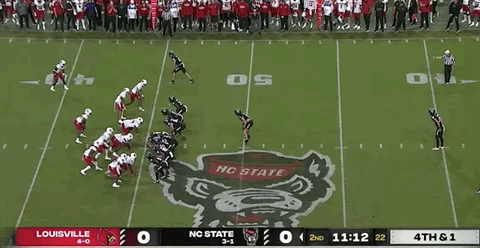 Also impressive here is how much push the NC State offensive line was able to get in order to make room for Wilson to run through. He had a lot of ground to cover to get back to the line of scrimmage and had a nice hole to dive into while continuing to drive forward for the extra yardage.
Special guest honoree of the day Bill Cowher shows his approval for the play.
Last week during their game against Colorado, Oregon coach San Lanning called for a fake punt while deep in his own territory. This gutsy play worked out, further energizing the team to a big victory over the Buffs.
Doeren was clearly looking for a similar spark and ended this drive with a touchdown to put NC State up by seven in this otherwise defensive game.
If you watched much college football in week five, coaches around the country clearly saw that Oregon fake punt almost as a reminder that the play exists. There were several fakes deployed throughout the day, each catching the opposing team sleeping. It's always a fun part of the game, seeing teams take pieces of inspiration from what they see elsewhere.
4. It really is a shame Sean Brown was called for a borderline targeting penalty later in this game. The Wolfpack feed off his energy as he flies to the ball with the same momentum that Wilson brings.
Here, Brown comes in unabated (*check spelling*) and gets the sack fumble on Plummer just before he begins his throwing motion.
Payton Wilson was coming from the outside and blew past the end. He sees the ball on the ground and flies in after it. Not only did he jump on it but he (as always) wanted more. He has the presence of mind to scoop the ball up and try and claw for more yards. He was likely down already but he's going to go until the whistle every time.
Wilson and Brown make a great tandem. They feed off one another. One hopes that this model is not only infectious but also sets the model to be passed down to the young guys to follow when these two inevitably move on.
5. A slightly delayed LB blitz here, really disguised well. NC State brings three LB's while one pulls back. The Louisville RB has to decide between two Wolfpack rushers. One vs. two rarely works out well.
Watch how the defensive line pulls left while the LB's Wilson, Caden Fordham, and Jaylon Scott all begin to blitz. Fordham then stops to meet the fullback who's attempting to leak out on a delayed release. Both sides are disguising what they're doing with delayed action in order to keep the other off balance.
The plays are well drawn up on both sides. The key to the sack is overwhelming the side. NC State's 3-3-5 package rarely gets sacks with the defensive line, but their job in this play is to eat up the offensive line and create rushing lanes for the LB's. Then after the play action, the Louisville RB is left with the unenviable position of needing to decide between blocking either Scott or Wilson. To his credit, he does his best to block Scott. Either way though, it's a lose-lose proposition, Plummer is getting sacked regardless.
Then Plummer tacked on an intentional grounding penalty for good measure while Wilson while throwing him to the ground with the suplex.
This put Louisville in the hole at second and 19. Did they follow up this play with a 45 yard touchdown pass? Well, yes, yes they did. But this post is about positive vibes only.
6. Yet another sack, this was less flashy than the last and more about out-effort'ing the opposition. Payton Wilson against a flat-footed tight end is a battle Wilson is winning nearly every time. He simply doesn't allow himself to get blocked and runs around the TE and makes a line straight to the QB. This isn't even a blindside sack, Plummer just isn't looking that way and by the time he realizes what's happening, it's too late.
The impressive part here is Wilson's footwork. He has the patience to not run right into the TE. Instead, he stutter-steps and just blows right past him to his target. Then, with a direct line to the QB, he cleanly wraps up and tackles without targeting. It appears he is also trying to jar the ball loose. All around a stellar example of a textbook sack.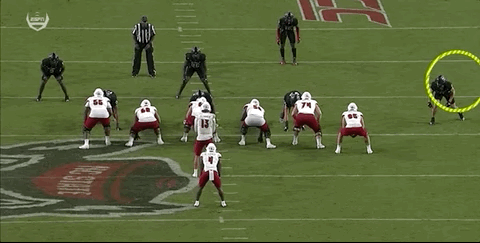 7. Bishop Fitzgerald officially gets credit for this interception, but this all happens because of Payton Wilson's relentless pursuit. Wilson pauses briefly to confirm whether the play action was a handoff or not. This shows growth and maturity as his earlier years may have seen him crash into the RB in hopes of getting a big stop before being mindful of the moment.
Gibson sends safety Rakeim Ashford and Wilson from the strong side. Again, the defensive blitz is about overwhelming numbers, everyone playing their part to create the havoc plays. As before, the Louisville RB has two rushers to contend with and chooses Ashford since he's the one right in front of him. His job on that play wasn't even pass blocking, he was to release as a receiver after faking the handoff with the play action.
It seems like Plummer saw Wilson hesitate and tried to look for a split second to his left but his receivers were covered. By the time he looked back, Wilson was up in his grill. It's really not clear who he thought he was throwing it to. Maybe he wanted to throw it away but came up way short of throwing it through the endzone. There was no receiver remotely in the area. #1 Jamari Thrash stopped his route at the hash, so it's possible Plummer thought he was going to continue, but it's unclear. The end result is a turnover.
I also love CJ Clark's jump for joy at the end here. At this point, the defense had stopped a big Louisville drive, the game was tied 10-10 with the Wolfpack getting the ball back with lots of time left. Things were looking UP.
Yet, this was the mood a little while later. But let's put this game behind us, shall we?
Conclusion:
A summary of Payton Wilson's performance in picture form:
If you care about numbers and stuff:
10 tackles (6 solo)

2 tackles for loss (TFL)

2 sacks

1 fumble recovery

1 pass breakup (PBU)

Oh, and he converted a first down on a fake punt
Wilson is the definition of leaving it all on the field. In years past we've looked for him to play with his signature abandon while still being in control enough to positively affect the game. In this game, he put all the pieces together into what NC State fans will hopefully remember for years to come.
The hope in the fanbase now is that newly named starter MJ Morris can come in to fill in the gap on the offensive side while Payton Wilson continues to lead the defense as he did against Louisville. We may never see a performance like we did in this game, but even 80% of that on a week to week basis should hopefully keep the Wolfpack competitive in the ACC. They do still need to curb the explosive plays they keep giving up, but if they stop those and MJ gives them the spark they sorely need, then look out.