Film Room - UVA gave the NC State defense fits
NC State started ACC play with a road win over UVA, winning 24-21 on a last second field goal. This was one of "those games" where, in classic NC State fashion, they tried everything in their power to not win. I say "not win" because that's the feeling we got especially in the fourth quarter. When only up one score the offense did not have enough urgency to go and win the game.
This continues to put excessive pressure on the defense to get stop after stop as the game goes along. That was the issue last season with the veteran laden defense on the roster. The issue this season is the defense is not as strong, it must be said. They stood strong in many instances, but also gave up big plays right from the jump.
Today we'll focus mostly on the secondary, where many of the issues currently lie. As always, let's go to the video tape!
1. Shyheim Battle is one of my favorite players from the Dave Doeren tenure. He's the prototype recruit I feel like Doeren's staff should be targeting. Solid 4 star talent with lots of Power 5 offers but embodies that toughness that Doeren demands of his players. Battle has been nothing short of a lockdown corner during his time at NC State. He had some good plays in this game against UVA, but he got beat on what seems like a double move here from Malachi Fields. This doesn't happen that often so I wouldn't start a panic over it, just something to keep an eye on.
The secondary is already an area of chief concern, and Battle is one of the two people back there holding things down. The other is Ayden White (more on him in a bit). Both will be key pieces if the Wolfpack hopes to stop ACC opponents from going full air raid on them.
Here, they were fortunate that Colandrea just missed his target otherwise this game could have started off much differently.
2a. The defense continues to get beat by tight ends streaking down the field. I guess at least this time it wasn't down the seam on a late release. Given this happened so early in the game I initially got worried this would be an ongoing issue all night. But UVA started seeing success getting Malik Washington the ball so they kept feeding him. Can't blame them since he ended with 10 catches for 170 yards!!
2b. On this play the defense got hit with the okie doke. Credit a great double fake by UVA QB Anthony Colandrea, he really sold it. All the LBs bit on it. The Wolfpack actually got lucky it was ever so slightly overthrown, causing the TE to lose his balance when catching it. This 28 yard gain could have gone for more.
3. This was a great midfield stop on fourth down to end UVA's drive. If they had to do again I doubt the Cavs would run this from shotgun. It's the standard formation of modern offenses but puts the runner at a disadvantage when the goal is to just push forward one yard. The Pack snuffed it out and didn't allow it to even get started.
4a. The UVA offensive line gave Colandrea all the time he needed to find Malik Washington flying down the sideline. The QB dropped the ball right in the bucket, on time and in stride. This is a better throw than almost any we've seen from Brennan Armstrong to date.
It was a really well thrown ball but the most concerning part is that he was nearly five yards ahead of Sean Brown by the time the ball got there. This type of separation seems to keep happening and will continue to be tested by opposing offenses until State stops it.
4b. Brown is extremely talented and has another good play later in the game. The issue is that NC State's aggressive 3-3-5 defensive style leaves defenders on the edges on their own to cover receivers one on one. This hasn't been too much of an issue in recent years but is presenting a concerning trend this year through four games.
5. One of the things I would assume drives coaches batty is a short yardage play in front of the endzone where a receiver ends up WIDE open for a touchdown. Colandrea does all the right things to use his legs to his advantage and buy time (Brennan Armstrong, take note). He may have caused the defense to shift up thinking he was going to run. This was third and goal and NC State needed a stop to force a field goal. Instead, Washington is standing all by his lonesome in the back of the endzone.
You can bet Louisville's coaching staff is looking to replicate plays like this to their advantage.
6a. Now this is the type of Shyheim Battle play we've come to expect. Watch how he sniffs out the wide receiver screen IMMEDIATELY and makes a beeline for the ball. He skips right past the receiver trying to feebly set a block on him and stops the play for a loss.
6b. That play by Battle may have saved the drive. It backed up UVA to have third and 14. NC State covered well so Colandrea took off. To his credit, he jukes Payton Wilson right out of his shoes. I have never in my life seen Wilson get his ankles broken as if he'd been hit with an Iverson-style crossover. It works so well that Colandrea tries to do it a second time but Jaylon Scott is having none of that and puts an end to this drive.
7a. This game saw a lot of classic flashes we've come to expect from Tony Gibson. We all know Gibson is in love with the third down blitz. You have to love the play because he's basically saying, "I know I'm bringing the house. You know I'm bringing the house. You know that I know that you know I'm bringing the house. So try and stop me."
And most times, the opposing team can't stop it. This time they collapsed the pocket immediately and got the sack. It's just overwhelming pressure when it works well. When it doesn't it might result in a big play the other way, but hey, positive thoughts here.
7b. This would be a good clip for Payton Wilson's NFL reel. He comes in like a heat seeking missile. Loses his footing but doesn't let that stop him from getting to his target.
Now, Wilson got the glory on the commentator call, but the edge of that line was collapsed by #47 Red Hibbler. He got to the QB at the same time as Wilson even though he was being held back in an arm bar by the offensive tackle the whole way. A really impressive play by the redshirt junior.
8a. This, on the other hand, is NOT a play to end up on Wilson's highlight reel. I say again, Malik Washington had 170(!!) yards on the night. It was his third straight game setting a career high, and NC State is always willing to oblige fellows looking to have career games, in either football or basketball.
He got 59 of those yards on this play alone. You can see just how much breakaway speed he has, since it took nearly the entire Wolfpack defense to catch him. It was a good play design by UVA: trips receivers to the right forced multiple defenders to clear out to the opposite side of the field. This is why it looks like it takes them all day to catch up to the play and save the touchdown, setting up first and goal at the one.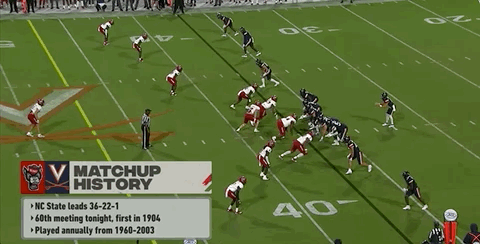 8b. I was initially not sure how Colandrea even got rid of the ball with two defensive linemen bearing down on him. This was almost a batted pass if not for his heads up play of the pump fake. This got #13 Travali Price in the air, giving him enough space to squeeze the pass low to Washington. Tip o' the cap to Colandrea on this one.
8c. A not tip of the cap to the attempted tackle Wilson brought to the scene. It could have limited the damage to only a 14 yard gain. Instead, Washington hits the stutter step button causing Wilson to over shoot his approach and only get a light arm tackle that is shed quite easily.
This is the downside to Wilson's all or nothing approach to tackling. At times, he is prone to over pursuing his target and missing. This is why he benefited from the measured approach of Drake Thomas to balance him out. He's lacking that now and is being required to shoulder the load of leading the middle of the defense. Most of the time it works great, but sometimes leads to plays like this.
9a. That long play set up UVA primed to tie the game, with the drive starting at the NCSU four yard line. UVA had a two yard run on first down, and on second down Colandrea attempted to roll out on a bootleg to make a pass play happen. If you weren't previously aware of redshirt sophomore Caden Fordham, you should be now. He did his best Drake Thomas by playing the spy to keep Colandrea in check. The UVA QB used play action and Fordham spied him perfectly to contain him from running. This was followed by good coverage to force the QB to throw it away and have UVA settle for a FG.
9b. On second thought, it looks like Fordham came in off the edge on a LB blitz, not a planned spy, but stayed with the play to finish the tackle after Bishop Fitzgerald (#19) came flying in to seal off the edge. Fitzgerald's effort here forced Colandrea back inside and into the waiting arms of Fordham. Without his hustle this may have been a touchdown.
10. Tip o' the cap to Colandrea here. It was a great long pass to the back shoulder, 30 yard gain vs Battle. Good coverage by Battle here, not much more he could have done, it was just a better throw. Colandrea put the ball in the one spot his receiver could catch it. When we talk about what Armstrong needs to improve on, it's this level of ball placement. It's not good enough to heave the ball long at this level, it has to be on a dime.
Credit to the defense for not letting the drive go further. This play only set up a UVA FG to cut the game to one score.
11a. Tip drill! There was a time in the not too distant past when NC State could not catch an interception to save its life. It needs to be acknowledged that Dave Doeren addressed this problem with upgrades in recruiting that area and coaching changes to improve technique. Now, a tip drill interception is just a day at the office for this defense.
11b. Teamwork! Sean Brown gets credited with the interception, but make no mistake, this was a team effort. Bishop Fitzgerald tipped it away from the receiver and in the direction of his teammates so they could make a play. Colandrea was flushed from the pocket by Red Hibbler and downfield coverage was tight, causing him to make a risky throw. It wasn't exactly ill-advised, since Fitzgerald just barely got a hand on it. Had he not done that it would have gone for a big gain. This pass was aimed right at the hands of Malachi Fields. In the end, the final result is what matters, so I guess this is why Colandrea is getting benched for their next game. He played well but they probably feel like he isn't ready for four quarters of action yet. Throwing the majority of your picks in the fourth quarters of games doesn't generate the most amount of confidence from your coaches I'd suspect.
11c. Even with the tip it was still an impressive catch. Members of the NC State secondary now have great hands and know how to catch and secure the ball. The old adage of, "this is why he doesn't play receiver" does not apply to these guys.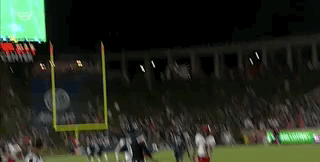 12a. Prior to the switch to 3-3-5, NC State was prone to being attacked by QB draw plays. It's a classically effective play since the QB drops back to force the LBs to drop into coverage, then the QB takes off through the hopefully created gap in the line. During the Drake Thomas/Isaiah Moore era, this was nullified since they could spy and close the gap.
Through a third of the season so far, I am worried that NC State is reverting back to being vulnerable to this once again. QBs have had consistent success against the Pack thus far. The downfield blocking was all well done, the Pack players need to get off those blocks and get to the play.
Sean Brown gets the eventual ankle tackle, but watch how he may have been held by the tight end. It was borderline, and probably should have been called, but either way Brown could have done better to get around the TE and not let himself get hung up like that.
12b. Credit the RB with a good seal block on Caden Fordman here to really open up the running lane. Fordham was spying for the QB run and was in position. Normally, you won't see a RB elevate that far up field to block. Fordham is twice his size, he shouldn't be allowing this to happen. A swift swim move with his arms could have nullified this block and stopped the run before the first down.
13a. Again, flushed from the pocket and trying to make a play, Colandrea forced a ball into coverage, and Ayden White said thanks for this.
The defensive line deserves a ton of credit for their play in this game. Tony Gibson's scheme many times uses an additional player as a fourth down lineman. Here, Sean Brown blew past the attempted RB block and the rest of the line overwhelms UVA. But as before, Colandrea does an impressive job of keeping his eyes downfield to make a play.
If UVA is indeed benching Colandrea, I'm confused by this decision. Yes, he's been making risky throws, but he clearly gives them a great chance to win. Is this gunslinger mentality really that different than what Brennan Armstrong was doing for you? Tony Elliott clearly feels differently, but I think Colandrea is a gamer.
13b. Case in point, the reverse angle shows the ball was actually right on target to Washington, meaning it was an impressive throw by Colandrea while on the run. Colandrea is clearly a talented QB, he will just need to learn patience, when to press and when to take what the defense is giving. You can't blame him too much since Ayden White really snagged this one out of the air. If he hadn't shown up it very well may have been a touchdown.
14a. Late in the game, UVA had one more chance to tie the game. After the NC State offense were able to get absolutely nothing (again, read Alec's post), UVA started their drive from their own 34 yard line. The defense was clearly gassed by this point, after being asked to shoulder the burden for most of the final quarter, a troublingly recurring theme. UVA moved the ball consistently down the field until faced with this fourth down. It was more like fourth and 1.75 yards. Malik Washington goes in motion and runs a route perfectly parallel with the sticks. Colandrea fits the ball right in to convert the first down.
14b. Even one of the best corners in the country, destined for the NFL, can slip from time to time. Ayden White lost his footing, causing him to be late to the pass. He saw the route and if he'd been able to show up a half second sooner it could have been a pick six the other way. Instead, UVA converts a fourth and 1 to keep the drive alive.
15a. NC State's goal line passing defense clearly needs some work. Sometimes when players get all bunched up they have a tendency to lose track of the receivers. They outnumber the receivers so it might be an issue of confusion in coverage if it's a zone setup. It's just frustrating because Washington has torched you all game, you just KNOW they're going to try and get him the ball. Why even allow him an inch here? I'd liken this to boxing out in basketball, they could have fronted him to close the passing lane. If you're going to double team anyone, it would be him. Colandrea takes a four step drop, plants his foot and fires the ball just as Washington sneaks right in between Jaylon Scott and Caden Fordham for the touchdown.
As frustrating as this play was, it's what happens next that really leaves a bad taste when thinking about how this defense is going to stop more vaunted attacks they are scheduled to see down the road.
15b. UVA now needs a two-point conversion to tie the game. A controversial unsportsmanlike penalty after the TD forced UVA to take the attempt from the 18 yard line, and that would almost assuredly mean the chances were slim to none they'd be able to convert the much needed two-point conversion.
Many times the prevent defense ends up allowing the very thing it was attempting to prevent. The extra defenders seem to just be watching the play instead of covering.
As with the previous play, they outnumber the receivers in the endzone. I get that you want to cover your zone in case the pass is made short, but you know UVA absolutely has to make a play to the end zone so the top priority should be to mark the players and not the grass you're assigned to. There were enough defenders to double team each receiver, leaving the front man the option to break off up field in case the play was made short of the goal line.
After all that came before, the game could have been over if they'd just prevented an 18 yard 2-point conversion attempt. The defensive line again does a good job of getting pressure, forcing Colandrea out and he has to throw across his body down field. This is a tough throw and he puts it right on the spot.
15c. Sean Brown got stuck behind the receiver. It's unclear whether Shyheim Battle was turned around temporarily and lost track of the ball because he made no attempt at it. The tight end was back there so Battle was covering him. You would have liked to see him break off when the ball was in the air and try to make a play on the catch.
Ultimately, you have to give Colandrea credit for putting UVA in position to win. Yes, he threw two picks but the dude can clearly ball. He got the game tied up and headed for overtime. Another controversial unsportsmanlike penalty caused the ensuing kickoff to allow Julian Gray to have a 35 yard kick return, which he brought back to the 48.
With nearly 30 seconds remaining, three Brennan Armstrong runs totaling 18 yards brought NC State quickly into field goal range. Dave Doeren timed calling the timeout with three seconds remaining to ensure this would be the last play of regulation. Brayden Narveson had his 48 yard attempt blocked, but yet another 15 yard penalty (leaping over the line) by UVA gave him another chance, this time from 33 yards away. Narveson drilled this with no time left on the clock to give the Wolfpack the win.
Conclusion:
In the end, UVA probably deserved this win. They outplayed NC State in the second half. Poorly timed mental mistakes and penalties cost them their first victory of the season. If they keep Colandrea at QB, they could definitely pick up some wins in this league.
As for NC State, there's a lot to be discouraged by. The offense struggled in this game, as Alec outlined in his post. It's frustrating because the veteran Brennan Armstrong got outplayed by the freshman Colandrea. In case it's not clear, this is the opposite of what you want to see.
The most harrowing part of it all is UVA is likely to be the weakest opponent NC State faces for the rest of the season, with the exception of maybe Virginia Tech. But the Pack don't typically fare well when having to play in Blacksburg, so don't count your chickens on that one. The elements they're putting on tape will make opposing coaches excited to attack them on both sides of the ball.
Yes, a win is a win is a win. It's better to be 1-0 than 0-1, obviously. But this first league win feels like a loss. UVA lost this game, NC State didn't go out and win the game, if that makes sense. The Pack had several chances late to seal it and neither the offense or defense could close the door. Tell me if you've heard that before during the Dave Doeren era.
Now, with Louisville coming to town for some Friday Night Lights action (read: blackout!) confidence is not that high. Their QB just hung nearly 400 yards and five touchdowns along with 56 points on Boston College, with almost 200 yards on the ground to boot. Expect them to come in throwing heat. As always with the Wolfpack, hold onto your butts.