Film Room - NC State out-everything's VMI but still has room for improvement
The Wolfpack overmatched the Keydets in much needed tuneup
NC State did what was expected of them in their week 3 game against the Virginia Military Institute Keydets. After the loss the Notre Dame, this game came at the right time to help build their confidence back up. This is clearly a very talented team, and it's good to have these types of games every so often so they themselves can be reminded of that.
As always, let's go to the video tape!!
#1: Seal the game in the first quarter
Unfortunately for VMI, they were going to have a hard time given the talent disparity on the field. The Wolfpack just have more athletes across the board, and the game got out of hand right from the jump. To start, the State defense forced a three and out. Then Brennan Armstrong led a methodical, balanced drive down the field for a touchdown. It wasn't explosive, but it was effective and the Pack were able to set their own pace.
The ensuing drive for VMI resulted in the game being put away. It's nice when a game gets sealed in the first quarter. VMI QB hits his intended receiver in the hands and the tip drill bounces right to Robert Kennedy, who weaves his way through traffic to take the ball back 30 yards for a pick 6.


This type of dropped pass -> interception happened last week against Notre Dame, so it's nice to see it flipped the other way this time. Also, look at the wall of blockers as soon as they recognize the interception return is happening. Especially #13 Travali Price. He seals that last edge to create a running lane for Kennedy to dart through.


#2: Wilson saves the day (or play)
Payton Wilson is a freak athlete. There are occasionally times where you wonder whether he made the right choice in his pursuit, but you can never question his drive and motor. He absolutely loves playing football, and for NC State. Much like Thayer and Drake Thomas last year, and Emeka Emezie before him, I hope people appreciate these players while they're here because they're so hard to replace.
On this play, Wilson saved a potential huge play when the VMI tight end leaked out and the inexperience at NC State safety reared its head again. Wilson was playing spy on the QB, and his closing speed to block the pass is so impressive.
Safety Bishop Fitzgerald was weak side safety. Even as junior, he hasn't had a ton of reps so hopefully this is a learning experience for him. He totally misses the TE. After the play there seed to be confusion as to whether he or #7 Shyheim Battle were supposed to cover the TE leaking out, but Battle is a corner who was covering the receiver in the flat. That cover is on Fitzgerald.
Wilson just got his fingertips on the ball, but swatted it like Mutombo. He should have wagged the finger afterwards.
Listen, nobody likes a leaky tight end (I'm sorry), but why does this keep happening? Teams clearly see State give up plays to TEs going up the seem so the defense is going to keep getting hit by it. I'd like to be a fly on the wall during this film session.
#3: Gray Day Part 1
I have been saying this for a long time, JULIAN GRAY NEEDS THE BALL MORE. How much more? Just.... MORE.
This may have been one of the best passes Brennan Armstrong has thrown through three games with the Wolfpack. He timed it perfectly just as Gray broke on his post route, and dropped it in over the LB. There was good coverage around the field, but Gray is just faster. He nearly broke it to the endzone, but the VMI corner got a shoestring tackle to save it.
Gray showed some toughness as well, absorbing the initial contact in the failed arm tackle and bouncing off to keep running. He looks like he just hit the boost button as he accelerates. It was a foot race after the catch and very few people are going to catch Gray one on one. These are the types of plays the fans have been hoping to see more of in the Robert Anae system. Alec already talked about how VMI was playing mostly cover 3, which didn't present the opportunity for many big pass plays.
The takeaway for me with this type of play is the opportunity for yards after catch it presents. YAC was an area sorely lacking in the previous regime of Tim Beck's offense, and there's already signs this will be addressed by Anae. Don't just get the ball to your playmakers, get the ball to them in space to allow them to use their skills to get big chunk yards. It doesn't need to go 40 yards in the air for it to be a 40 yard gain, or 64 yards in this case. This set up first and 10 from the 16 yard line and Armstrong threw a nice high point pass to Bradley Rozner for the TD.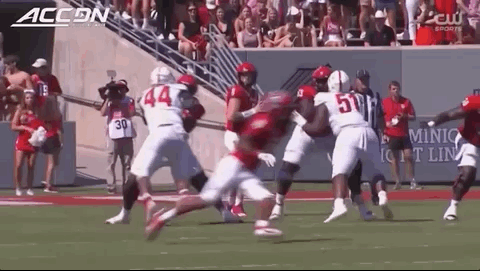 #4: YAC Dance
Speaking of YAC, Anae has been calling these crossing routes in order to get guys like Kevin Concepcion in space for yards after catch. KC has quick feet, and almost juked the DB out of his shoes as he turn a three yard catch on second and 13 into a first down.
The issue is Brennan Armstrong was late going through his progressions in order to find KC, who was open for a while going over the middle. If he'd thrown it earlier there may have been a seem up the hash line for a big gain.
#5: Long pass given up (again)
I won't ding the defense too much, I'm sure the coaches are going to highlight this play to them this week. It's just troubling that this seems to keep happening, big chunk plays given up. This didn't happen many times in this game, thankfully. But even one 44 yard pass play feels like too many in a game against this level of opponent.
The person pulling this footage for the ACC Digital Network hit the menu button by accident, which is hilarious. But anyway, #14 Terrente Hinton is a redshirt sophomore without many reps at Cornerback and just got burned. Looks like the receiver pulled a double move, that'll do it.
Even still, it was a really impressive pitch and catch. The QB dropped it in over the shoulder and the receiver bobbled it initially before hauling it in. Tip 'o the cap to you.
#6: BA Scramble
We talked last week about how Brennan Armstrong can use his scrambling skills to his advantage in order to keep pass plays alive. He was slightly better this week, and on this play rolled to his left and kept his head up. Maybe he didn't feel as much pressure from the VMI front so he didn't feel the need to take off. We'll see if this type of play continues in Charlottesville when NC State takes on UVA.
Also, look at the beginning of the play to see Jordan Houston lay a good block on the rusher. He stays with it even while the nose tackle throws off his block and curls around to flush Armstrong out. Using the RB's in pass protection will be key to maintaining the pocket and allow those 'splosives to occur.


#7: Don't give up on Rooks just yet
Contrary to popular belief, Porter Rooks is not yet cooked. The dude can play. I really like this pass from Armstrong hitting Rooks on the slant on time and in stride. The LB's over pursue, he's able to break one arm tackle and gains a few more yards out of it. A real nifty play. He's a slot receiver, so throw to him in the slot. This is exactly the kind of play the team would run for Thayer Thomas on third and 5 when they needed a first down.
Rooks continued to make up for his drops last week with a good play here. On third and 7, he runs an 12 yard curl, Armstrong hits the ball right in the window, and Rooks is able to get another dozen out of it for a 24 yard gain.


#8: VMI sack = bad
Dave Doeren mentioned this in his press conference when he was noting pros and cons from this game. Giving up a sack is a total con, unsurprisingly. The offensive line did OKAY against VMI, but for the third game this season has broken containment and allowed rushers in the backfield. It happened multiple times this game against an opponent that it should have been able to block handily. Don't get me wrong, Armstrong had way more time this game than the last two weeks, but it just doesn't seem to bode well for ACC play.
#9: VMI long run
Much like giving up at least one big pass play, we knew there would be at least one of these runs given up. NC State did well for the most part, but they overplayed the left side of the line on a blitz. The line and LB's got amazing pressure, they blew up the offensive line right from the snap and were immediately in the backfield. But they couldn't complete the TFL, the RB hit the juke button, found the hole, and took off.
When you've got a team pinned down near the goalline, giving up 24 yard runs are less than ideal. But as is usually the case with this Tony Gibson coached defense, they recovered and forced a three and out right afterward.
#10: VMI almost long pass
Unfortunately, Hinton got burned by the leaky tight end yet again. This time, Payton Wilson wasn't there to soar through the sky like Superman to save the day, the VMI QB just sailed it. It was honestly a great call on third and 1, and only missed by 2-3 yards.
Hinton got bit on the play action, assumed the TE was going to run block. I don't think it would have gone for a touchdown, Hinton and Devan Boykin have too much closing speed and likely would have caught him, but that would have been easily a 40+ yard gain allowing the Keydets to set up in the redzone.
You can bet your bottom dollar that opposing coaches are seeing these plays and keying in on the fact that the Pack struggles with covering tight ends running up the seem.
I think that NC State fans have become accustomed to having a strong secondary, many may have forgotten that not too long ago this was the Achilles heel of the defense. Having inexperienced players at these positions is giving bad flashbacks to times I thought I'd repressed.
#11: Bad tackling
Proper tackling technique has been a staple of the Tony Gibson era. Here, Bishop Fitzgerald gets thrown like a ragdoll. The dude didn't have the best day, but hopefully he'll learn from this and wrap up better next time. Could have been a two yard gain where the offense only recovers to the original line of scrimmage, instead the receiver picks up the first down.
#12: Poor Cisse
If we're talking about inexperienced players, we have to talk about true freshman Brandon Cisse. He was thrown into action for veteran Ayden White, who was held out as a precautionary measure to be ready for conference play. This will ultimately be a learning experience for Cisse, but he got beat multiple times, and as soon as VMI realized he was overmatched they picked on him on several plays in sequence.
Exhibit A:
Cisse has good position and really doesn't need to maul the receiver. It's not like he got burned by superior speed. He just has to maintain his position and go for the pass breakup. The VMI QB throws honestly a phenomenal ball to the outside shoulder, and even with Cisse draped all over him the WR still comes down with it. Another tip 'o the cap to you, sir.
Cisse commits a DPI (VMI declined) while giving up a 41 yard pass, very impressive.
Exhibit B:
NC State followed up that big pass play by sending the house and getting a sack on VMI for a loss of 10. VMI started sniff a weakness of an inexperienced corner against their best receiver of the day, Egypt Nelson. Nelson only had three catches but finished the game with 107 yards and a touchdown (more on that in a moment). Not a bad afternoon, too bad it had to come at Cisse's expense.
Here again, Cisse was keeping pace with Nelson, he was bumping him for position but gets caught with having his hands on the shoulder, pretty easy call. So this second flag negates the sack and grants another first down.
Exhibit C:
NC State brings pressure again and gets yet another sack, this time by Travali Price, for a loss of10 yards. Credit to VMI for not getting too flustered, because at this point they fully smelled blood in the water and went after Cisse yet again...again.
This time, the switched it up with the post, which was a smart move. They'd ran Cisse down the sideline multiple times, then did the okey doke by sending Nelson across the middle. VMI QB Collin Shannon barely got the ball off as a pair of NC State rushers were bearing down on him, but he delivers the strike and Nelson takes it the rest of the way in.
Ultimately, these are good lumps for Cisse to take now, since he may have to take over at that position if White leaves for the NFL after this year.
#13: Gray all day
Julian Gray might be one of the most underutilized players on this team. The last NC State player I can remember with this kind of breakaway speed was Nyheim Hines. Now, he's not Hines level...just not yet. If he keeps this up, you never know, he is just a redshirt sophomore.
Exhibit A:
I love when track and field guys play either receiver and/or kick returners. They are trained sprinters, and excel at just "going fast". He makes the other team look like they're running in slow motion. You can tell this guy used to run races the way he bobs his head over the goal line like the finish line of a race.
Also, see at the end of the run, I'm not sure what Porter Rooks is doing there. He's getting too hyped by the return that he walks into the path of the referee who's trying desperately to keep up with the play. That wasn't smart and potentially dangersous. The ref throws a flag but that wasn't the only one thrown on this play...
This play was at the start of the third quarter and would have been a huge boost to start the second half. However, #83 Joshua Crabtree got blown through in his attempt to block. On his way down, he grabbed and took the VMI player with him, thus negating the return. Gray may or may not have been able to turn the corner without that penalty, we'll never know. But it at least shows the insane speed Gray possesses.
Exhibit B:
Gray shakes off the previously called back kick by doing it again! VMI had received a penalty in their jubilation over scoring their lone touchdown on the previous play, so they had to kick the ball off from the 20. It was a low kick, which Gray fielded at his own 20 yard line, then proceeded to follow his wall of blockers right up the sideline to paydirt.
Fun fact: This was the first kickoff return for a TD for the Wolfpack since Bam Knight in November 2021.
The nifty highstep may or may not have been necessary, but always appreciated. Redshirt sophomore Jordan Poole was a much ballyhooed recruit who hasn't been able to yet crack the two-deep at LB. True freshman Kamal Booner was actually listed as the backup at the Will LB position. Doesn't really matter since they're both playing behind Payton Wilson anyway.
That being said, Poole still finds ways to help the team, here by setting the crucial block during Gray's run allowing him to complete the return.
It's so impressive how he just accelerates through the hole, and at the end the opposing VMI players just fade from existence.
#14: A long pass (finally)
Just to add on what Alec had to say about this play, I'm glad they took thi shot down field, but this was actually not a great pass. If Armstrong had simply thrown it straight down the hash he was on it would have led Terrell Timmons to catch the ball in space. Timmons was open but had to come back in towards the safety to try to catch the ball.
I'd say that usually going up and over the receiver and hooking their head would normally result in a flag. I guess that didn't count to this referee. Maybe he needed the game to end because he had to go feed his cat, who knows.
Even Armstrong agrees with what the crowd was calling for. Seemed pretty straighforward, but maybe NC State was being penalized by their lead.
#15: KC and go go
As I said before, you get the ball to KC in space and good things will happen. This pass went for 31 yards and was quite good but we have to be honest and say it was kind of a late throw.
As soon as KC clears the Sam LB the ball should be on his hands so he can turn and run up the middle of the field. He again makes it to the opposite hash before Armstrong gets the ball to him. KC still made it work though it feels like it could have been more. If he'd been able to go up the middle there would have only been the safety to beat.
He's calling for the ball when he makes his cut but you'd like to see Brennan identify that earlier.
#16: Turtle Power
Last but not least, I love a good Ninja Turtle reference, and if true freshman Kendrick Raphael keeps playing like this I'll be making a lot of them.
Raphael was always the coolest turtle, anyway. He finished the game with 16 carries for a game high 85 yards. I'm not sure he should be getting 2-3 times the carries as Michael Allen, but maybe it was just load management for Allen for a game that was well in hand.
Why hurdle one defender when you can jump over two! Such an impressive play and show of athleticism. I love a good hurdle in football, it never gets old. I've watched this clip 1,000 times already.
Conclusion
NC State showed that they have skilled players up and down the roster in this game, though the team is very young. Many of these players will benefit from playing in a game like this, even if they made mistakes.
Brennan Armstrong played better, but still has instances where he could improve his timing.
Kevin Concepcion is clearly going to be Armstrong's favorite target, but this may come at the expense of guys like Timmons and Gray, who could be just as valuable.
I want to start a letter writing campaign to get Julian Gray the ball more often.
And lastly, here's a guy in a big ass hat. Part of me really wants this hat. And I'm just realizing I caught this other guy mid-nose swipe. Bad timing, my dude, sorry.
Until next week! Good luck to the Pack in their first game of ACC play up in Charlottesville as they take on the UVA Cavaliers.