Game Analysis: NC State Takes Down Clemson
All year, it's been a similar refrain for NC State. This was a team that was self-destructive, and if it could just get out of its own way, it would be in every game on the schedule. On Saturday, we saw what State can be when it executes the plays in front of it. We didn't necessarily see this for the whole game, but we saw it for a good three quarters before State hung on for the final 15, and we will take every bit of a win over Dabo and the fighting hucksters.
Through the first three quarters, the Pack had zero dropped passes and one penalty. It did not beat itself. This was not a good offensive performance, not by any measure, but State counteracted its general anemia with a few explosive plays that substituted for sustained drives, and it capitalized when those opportunities presented themselves. Clemson still has a good defense, and State still has a bad offense. The Pack had 202 total yards, but it executed and seized the few opportunities it was able to create offensively, and that was all it needed to complement its routinely good defense.
Clemson, on the other hand, was far sloppier, helping State to a critical three points with 30 penalty yards during a second quarter drive, as well as turning the ball over twice. Klubnik's first interception was a terrible overthrow. The team that makes fewer mistakes often wins in these coin-flip type games. State was that team for really the first time all year. It was a very enjoyable afternoon.
Robert Anae is good at his job
Kevin Concepcion had two touchdown catches on Saturday, and both were great draw ups from Robert Anae. He is really good at finding creative ways to get the ball to his best players, and KC is the best player on the offense.
Touchdown 1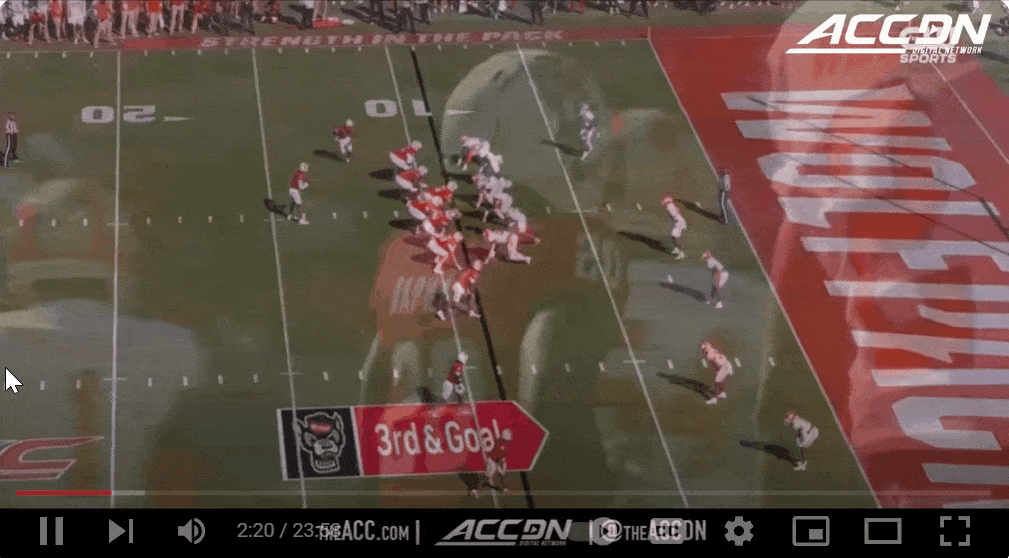 Anae is a big user of presnap motions. They get the defense communicating, and the more communication, the higher the likelihood of miscommunication. When you can force 19 year-olds to be well organized, that's usually advantage offense. Clemson is in man coverage here, and KC's motion gets them switching this assignment off. Now they do this without an issue, but the play design still hits. It's basically a rub. State is trying to get KC's defender caught up by the in-breaking routes of Lesane and Julian Gray as KC runs underneath. It actually does one better though, as the defender just runs into his own guy and both of them eat grass, leaving KC wide open.
Touchdown 2
This is called formation into boundary (FIB). Note the trips on the short side of the field after Lesane motions over. It's an alignment that overloads the short side of the field, and it can create numbers advantages over there as well isolation on the opposite side with a lot of space to work with. When State motions Lesane from the slot, it has trips on the boundary side, and It leaves Concepcion on an island with a ton of space. Clemson is playing cover 0, meaning it's man coverage across the board with no safety. The lack of help causes the field side corner to play with more of a cushion, and when he bails out of press coverage, the shallow dig route from KC is easy money. Then you get KC with the ball one on one in wide open space. Your best player makes a play, and it's 24-7.
The three big plays this offense managed on Saturday all occurred with the ball in KC's hands. State does nothing offensively in this game without him, but don't lose sight of the scheming at work here that created these opportunities for him.
These were also huge for MJ Morris. Clemson's pressure got him a bit sped up in this game, and these were easy throws. I really liked the pocket movement, which State did three or four times. Morris is generally pretty good at throwing on the move, and he looked less comfortable in the pocket on Saturday than he has in the past. His accuracy was a little off in this game. I think in some ways, that's a positive takeaway, that Morris can definitely play at a higher level than he played on Saturday and you still won the game.
The 4th quarter
The drive following Concepcion's long touchdown catch didn't make a lot of sense to me. State had been able to speed Klubnik up with pressure for most of the game. He was very clearly uncomfortable up until this point. State blitzed one time on this 10-play drive. It sat down in Cover 3 with a 3-man rush basically the whole drive and just allowed Clemson to matriculate down the field. Klubnik is nothing special right now, but if you're going to give him endless time, he's going to pick apart a zone, and he did. Philosophically, this sudden conservative defensive play calling makes no sense to me. Clemson went 10 plays right to the endzone and Klubnik was 6-6 on the drive.
The fact that State followed this up with a counter run and an inside zone run for Delbert Mimms on the ensuing drive gave me heartburn. They called those two sequences like the game was over, and it was not over.
Now to their credit, they flipped this immediately. I had no issue with what happened after, when State got pretty aggressive down the field with the lead, but it started clenching and ended up dropping two passes in the fourth quarter. Are these things all related? I don't know, maybe they are. However you want to view the fourth quarter, State definitely allowed Clemson back into the game by sitting in an eight-man zone the entire drive and letting Klubnik find a rhythm that the pressure had kept him from.
Dave Doeren
Dave Doeren has found himself a reputation as kind of a boring guy, and I think this is more of an image management thing than his actual personality. During Doeren's second year at State, he made some comments about uncalled holding penalties and alleged fake injuries from Jimbo Fisher's Florida State team. ESPN ended up picking this up and making something out of it, and I think this came as a shock to Dave. No disrespect to the MAC here, but when you let it rip at Northern Illinois, a lot fewer people care than when you let it rip in the postgame against the number one team in the country.
I've always hypothesized that Doeren is very judicious about his public persona, and that episode was the genesis of that. One thing this season has made clear is that Dave does not approach his team the same way he approaches his media appearances. We already knew this, because duh, but this season has been tough on him, and it's come out more. This is a good thing. I am praising him here, if that's not clear yet. Doeren would fight Godzilla with his bare hands for his football players, and that is not a trait you find everywhere (looking at you, Pat Narduzzi).
I love Dave Doeren. I am more than willing to say my piece about what I've believed to be some poor game management this year, but this dude objectively rocks just as a guy, and you'll note that he's never had a team that quit, even his worst teams. State needs some spiciness. It is a historically boring football program. It needs a guy who will tell Steve Smith to kiss his ass. Doeren is a street fighter. It doesn't always manifest itself in a positive way, but it's better than some dork saying "oh we got better today" after losing to Boston College.
You do you, Dave. Except for playing Cover 3 zone under for an entire series after you have a chance to banish Clemson. Don't do that, but do everything else. Coaching football is hard. Dave is as good as anyone we've had in a long time. Talk your shit, Dave. I don't care who thinks you haven't earned it. Deion Sanders talks more than anyone and he hasn't earned a pat on the back yet, but people care. Nobody would care if some milquetoast old guy had Colorado at 4-4. And yes, I know that's not an apples-to-apples comparison, but whatever. Say your piece, you beautiful, t-shirt wearing, bass fishing, unc-hating, fantastic representative of our university.
Payton Wilson.